dotURL Example
Description
dotURL Example is a sample database that demonstrates the creation of .url (Windows Internet shortcut) files from within FileMaker.
.url files work on OS X in addition to Windows and are plain text files of the (minimal) form:
[InternetShortcut]
URL=http://www.asterix.fr/
with a suffix .url and hence they can be easily created using a text editor.
The example file demonstrates creating .url files from within a FileMaker database and also how to create shortcut file for a hosted database (see the Scripts menu).
Version: 1.0 [ Download ]
Date: January 12, 2010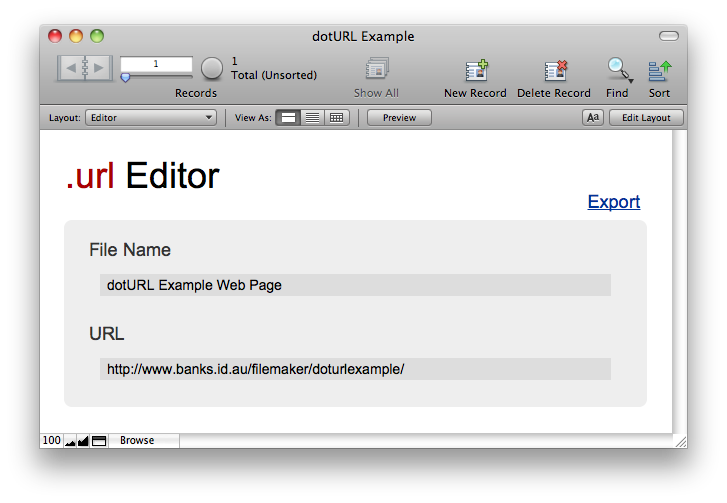 Note: just for completeness, .webloc files on OS X are also text files, in this case xml plists. For example:

<?xml version="1.0" encoding="UTF-8"?>
<!DOCTYPE plist PUBLIC "-//Apple//DTD PLIST 1.0//EN" 
	"http://www.apple.com/DTDs/PropertyList-1.0.dtd">
<plist version="1.0">
<dict>
	<key>URL</key>
	<string>http://www.asterix.fr/</string>
</dict>
</plist>

Requirements
FileMaker Pro 10.0v3 [Advanced]
Earlier versions may work but have not been tested.
Feedback, Suggestions & Bug Reports
Please send any feedback, suggestions or bug reports via the Contact form. If you have a suggestion for how this might be improved I'd be very interested in hearing it.
License
Copyright (c) 2010, Mark Banks
All rights reserved.
Redistribution and use in source and binary forms, with or without modification, are permitted provided that the following conditions are met:
Redistributions of source code must retain the above copyright notice, this list of conditions and the following disclaimer.

Redistributions in binary form must reproduce the above copyright notice, this list of conditions and the following disclaimer in the documentation and/or other materials provided with the distribution.

The name of the author may not be used to endorse or promote products derived from this software without specific prior written permission.
THIS SOFTWARE IS PROVIDED BY THE COPYRIGHT HOLDERS AND CONTRIBUTORS "AS IS" AND ANY EXPRESS OR IMPLIED WARRANTIES, INCLUDING, BUT NOT LIMITED TO, THE IMPLIED WARRANTIES OF MERCHANTABILITY AND FITNESS FOR A PARTICULAR PURPOSE ARE DISCLAIMED. IN NO EVENT SHALL THE COPYRIGHT OWNER OR CONTRIBUTORS BE LIABLE FOR ANY DIRECT, INDIRECT, INCIDENTAL, SPECIAL, EXEMPLARY, OR CONSEQUENTIAL DAMAGES (INCLUDING, BUT NOT LIMITED TO, PROCUREMENT OF SUBSTITUTE GOODS OR SERVICES; LOSS OF USE, DATA, OR PROFITS; OR BUSINESS INTERRUPTION) HOWEVER CAUSED AND ON ANY THEORY OF LIABILITY, WHETHER IN CONTRACT, STRICT LIABILITY, OR TORT (INCLUDING NEGLIGENCE OR OTHERWISE) ARISING IN ANY WAY OUT OF THE USE OF THIS SOFTWARE, EVEN IF ADVISED OF THE POSSIBILITY OF SUCH DAMAGE.
---
© 2010 Mark Banks. Last modified: January 13, 2010