FM Help Service
Description
FM Help Service is a (very) small application that places an item in the Mac OS X services menu to find the currently selected text in the FileMaker Pro Help.
Placing and item in the services menu it makes it very easy to look up functions, script steps and other FileMaker functionality whilst writing calculations, chatting, reading email or Web pages, as in this example:
The menu item is localized in English, French & German.
Download & Installation
Version: 1.0.2 [ Download / On GitHub ]
Date: November 18, 2013
Release Notes
To install the application drag it to the Applications folder and then enable the service from the Services list in the Keyboard Shortcuts panel of the Keyboard preference pane.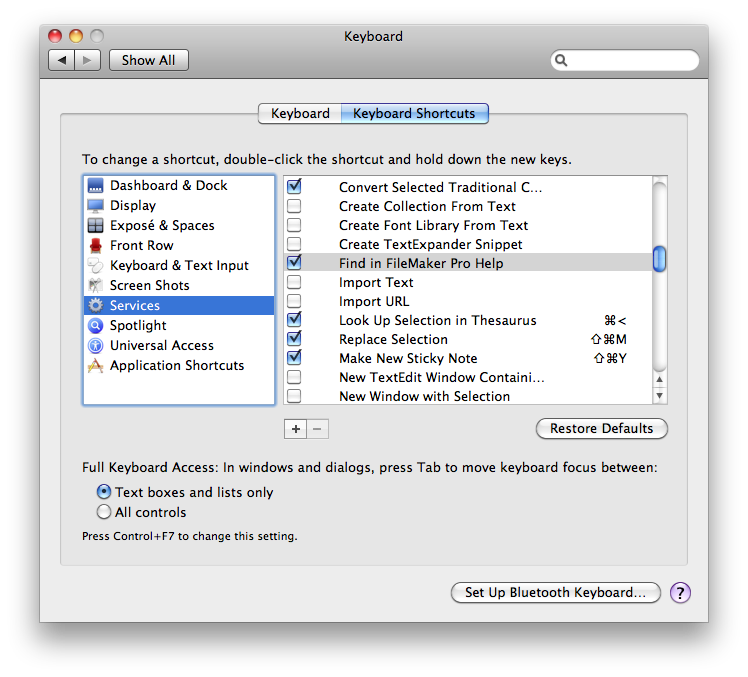 Note: the pasteboard server does not always recognise new services immediately. If the menu item does not appear in the list of services please try logging out and logging back in.
Requirements
Mac OS X 10.6.8 (Snow Leopard)
FileMaker Pro 11v4 [Advanced] or later
Known Bugs & Limitations
FM Help Service cannot be used with FileMaker version prior 11 since those versions do not support the Mac OS X services menu.
The length of the selection is truncated to a maximum of 64 characters (the help systems does not much like searches based on long strings).
Feedback, Suggestions & Bug Reports
Please send any feedback, suggestions or bug reports via the Contact form. If you have a suggestion for how this might be improved I'd be very interested in hearing it.
If you'd like to see a localised version in any of the languages supported by FileMaker and are able to assist with the translation I'd be delighted to hear from you.
License
Copyright (c) 2009 - 2013, Mark Banks
All rights reserved.
Redistribution and use in source and binary forms, with or without modification, are permitted provided that the following conditions are met:
Redistributions of source code must retain the above copyright notice, this list of conditions and the following disclaimer.

Redistributions in binary form must reproduce the above copyright notice, this list of conditions and the following disclaimer in the documentation and/or other materials provided with the distribution.

The name of the author may not be used to endorse or promote products derived from this software without specific prior written permission.
THIS SOFTWARE IS PROVIDED BY THE COPYRIGHT HOLDERS AND CONTRIBUTORS "AS IS" AND ANY EXPRESS OR IMPLIED WARRANTIES, INCLUDING, BUT NOT LIMITED TO, THE IMPLIED WARRANTIES OF MERCHANTABILITY AND FITNESS FOR A PARTICULAR PURPOSE ARE DISCLAIMED. IN NO EVENT SHALL THE COPYRIGHT OWNER OR CONTRIBUTORS BE LIABLE FOR ANY DIRECT, INDIRECT, INCIDENTAL, SPECIAL, EXEMPLARY, OR CONSEQUENTIAL DAMAGES (INCLUDING, BUT NOT LIMITED TO, PROCUREMENT OF SUBSTITUTE GOODS OR SERVICES; LOSS OF USE, DATA, OR PROFITS; OR BUSINESS INTERRUPTION) HOWEVER CAUSED AND ON ANY THEORY OF LIABILITY, WHETHER IN CONTRACT, STRICT LIABILITY, OR TORT (INCLUDING NEGLIGENCE OR OTHERWISE) ARISING IN ANY WAY OUT OF THE USE OF THIS SOFTWARE, EVEN IF ADVISED OF THE POSSIBILITY OF SUCH DAMAGE.